UAE LAUNCHES WORLD'S LARGEST SINGLE-SITE SOLAR FARM AHEAD OF COP28, SET TO POWER 200K HOMES AND CUT 2.4M TONNES OF CARBON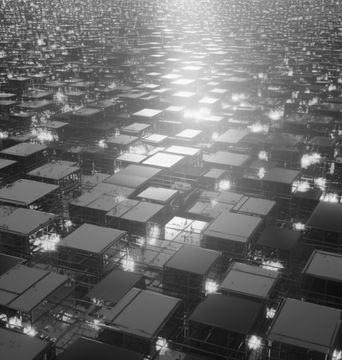 In the fast-evolving landscape of renewable energy, the United Arab Emirates (UAE) has taken a monumental leap by launching Al Dhafra, the world's largest single-site solar farm, ahead of the much-anticipated climate conference, COP28. Spanning a sprawling 22 miles from Abu Dhabi, this solar behemoth is poised to make considerable strides in the UAE's quest for cleaner energy while sparking dialogue about the country's energy strategy.
The 2-gigawatt Al Dhafra solar farm, a monolithic achievement of solar power, is adorned with almost 4 million bifacial solar panels, designed to capture sunlight on both sides, thereby increasing energy efficiency. Al Dhafra, with its staggering capacity, can power nearly 200,000 homes and will dramatically curb UAE's carbon footprint by eliminating over 2.4 million tonnes of carbon emissions annually.
Al Dhafra is the product of an international infusion of expertise, jointly developed by Masdar and TAQA from the UAE, EDF Renewables from France, and JinkoPower from China. The project had a significant socio-economic impact, creating 4,500 jobs during its construction phase.
This mega project bolsters UAE's solar power production capacity to 3.2 GW, injecting new life into its renewable energy sector and firmly planting it on the global solar map. However, while Al Dhafra is an undeniable milestone on the path to a greener future, COP28, which the UAE is hosting, punctuates the country's energy strategy, raising key questions about its commitment to renewable energy.
Critics have questioned the UAE's pledge to become carbon neutral by 2050, especially in light of its energy strategy vision 2050, which still relies heavily on fossil fuels, accounting for 50% of its energy mix. Questions have also been raised over the UAE's decision to appoint the CEO of its national oil company as the leader of COP28, casting an uneasy shadow over its dedication to transitioning away from fossil fuels.
The unveiling of Al Dhafra ahead of COP28 sends a clear message about the UAE's efforts and willingness to leverage renewable energy and combat climate change. However, the apparent contradiction between UAE's green steps and its fossil fuel-dependent strategy suggests a complex energy landscape, where the transition to renewables is a long road filled with challenges and paradoxes.
The launch of Al Dhafra is indeed a colossal stride, yet it highlights the need for a more coherent, comprehensive, and consistent approach towards energy transition. The global challenge of climate change requires not only imposing feats of engineering but also unwavering commitment and clear strategies. As the UAE hosts COP28 with Al Dhafra as its radiant symbol, the world will be watching its every step on the path to a greener future.
The next benchmark for the UAE and for the world will not just be the capacity to construct renewable energy projects but to align these with real actions and commitments that secure a sustainable, low-carbon future. That will be the real test of leadership in the climate age; building big is not enough, but building smart, sustainably, and responsibly is the path forward.